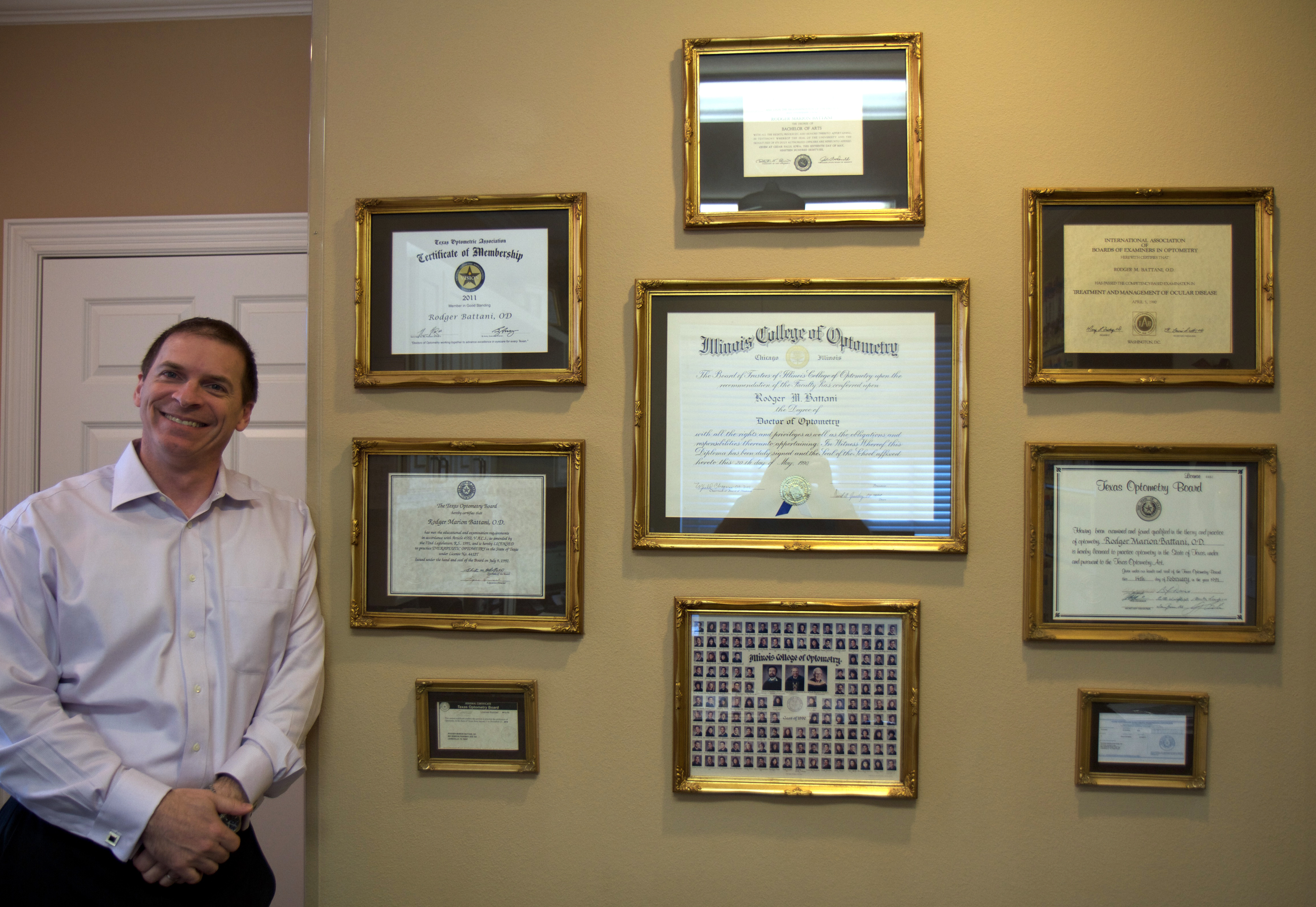 Rodger M. Battani, O.D.
Dr. Battani was born and raised in rural North Central Iowa. He attended the University of Northern Iowa for his undergraduate schooling, where he received a Bachelor of Arts in Science degree with honors, in 1986. He completed his Doctor of Optometry degree at the Illinois College of Optometry, four years later. As part of his curriculum, Dr. Battani completed an internship under a pediatric ophthalmologist, in the hospital setting of the Chicago Osteopathic Medical Center. He also completed rotations in Pediatrics and Binocular Vision, Low vision, and Contact Lens Specialty Clinics at I.C.O.
Since 1991, Dr. Battani has been in Private Practice Optometry in Denton County, with emphasis in primary care family optometry and contact lens specialty. His areas of expertise encompass difficult contact lens fits, including irregular astigmatism and bifocal contact lenses.
The doctor has a life-long passion for athletics and continues to stay active, recently starting his 25th season of semi-professional baseball in a local league. He lives in Highland Village, Texas, with his wife Chika and daughter Sofiangel.
Thorough exams with meticulous nature:
Consistent with his meticulous nature, Dr. Battani has a personal philosophy to leave no stone unturned when it comes to the health of his patients. He will spend whatever time it takes to make sure each patient receives a thorough evaluation and leaves feeling that they received the best possible care, with the assistance of state of the art technology.
Great with children:
Dr. Battani loves children and considered specializing in pediatric optometry, but opted for family practice. A good portion of his current practice consists of school age children from four and up.